MIT Sloan School of Management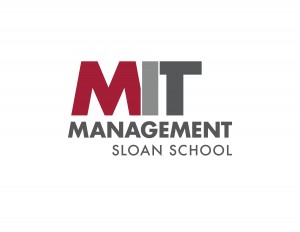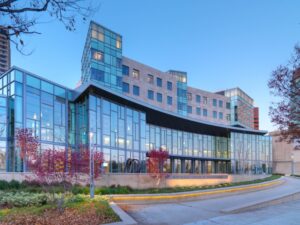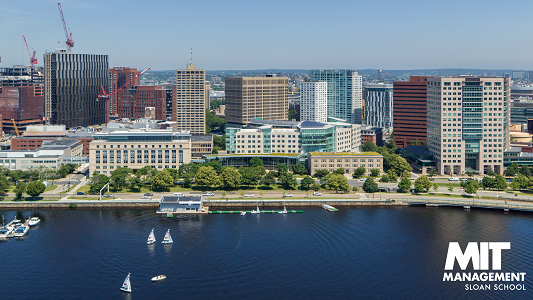 MIT Sloan School Of Management Chat
Hi everyone! Excited to be here today! My name is Katherine Farrar, and I am part of the Admissions team here at MIT Sloan. I am happy to answer any questions you might have about our programs.
Hello katherine, I saw you offer both MBAs and Executive MBAs. What is the difference between them?
Hi Stephanie, is there any option you can share the link to the zoom meeting that just started? would be greatly appreciated!
Hi Yoav! The biggest difference will be the cohort you are in, so for the MBA program, students have an average of 5 years of work experience. For the Executive MBA program is an average of 20 years of work experience and 14 years of work experience for the Sloan Fellows MBA program (our 12-month in-person EMBA).
Hi Stephanie, thanks for having this session. Is there a fair planned for the innovation labs that I can attend?
What type of candidates are you looking for? any specific traits or characteristics? thank you.
@Elad - MIT Sloan seeks students whose personal characteristics demonstrate that they will make the most of the incredible opportunities at MIT, both academic and non-academic. Through the admissions process we look for candidates with demonstrated success (academic and professional) as well as personal attributes such as an ability to work collaboratively and support others, leadership experience and potential, and the ability to creatively problem solve. MIT Sloan students come from a variety of backgrounds and experiences, but all can be described as collaborative, humble, doers.
@Ron - the zoom session for staff one-on-one's will resume at 1pm, for right now we are just using this chat function. Happy to answer any questions you might have though!
thank you so much, this helped a lot
Katherine hi, continuing Yoav's question, I too have 10 years of work ex. should I aim for Sloan Fellows or (preferred) can i still go for the 2Y MBA? I am 33Y
Thanks for the response, Stephanie. Yes, I mean the Action Learning Labs.
@Noam - it really depends on the level of experience you have had in your professional career, and your goals for after you graduate. One differentiator for the Sloan Fellows MBA program is that we look for people management whereas we do not look for that in the traditional MBA program. I would suggest reaching out to
[email protected]
to ask to set up a call with an admissions advisor for the Sloan Fellows MBA program to help you decide which is the right fit.
@Alon - the action learning office is separate from ours, so I am not sure if there are any fairs being planned at this time. I would suggest contacting them, and you can find their contact info here:
https://mitsloan.mit.edu/action-learning
hello, What will happen if the COVID breaks out again? Will the MBA go virtul?
Hi, can I register to the LGO, and if I dont get in register to the "regular" MBA? I dont want to miss out!
followup is LGO easier or harder to get in?
Is there any difference in Round 1 or Round 2 applications? Admission or scholarship wise?
Hey, does MIT MBA program require work experience?
@Ori - unfortunately, that is something we are not able to predict, and there are a number of variables that would be considered as the pandemic evolves. I can say that for the entirety of this past year, all programs and classes were held in-person and MIT has taken a number of steps to ensure the safety of all students on campus. At this time, we intend to continue to be in-person.
@Sima - The LGO has a different admissions team from us, and subsequently evaluation. If you apply within the first round to the LGO program, and are not accepted, your application will be reviewed for the MBA program if you elect it to be.
@Ido - It's true that later rounds are more competitive because the admissions committee has already accounted for a portion of the seats in the class. That said, candidates are better off applying with a strong application in a later round, rather than rushed application submitted in Round 1. Personal or professional circumstances can also make later rounds a better choice for some.
@Dan - Work experience is not required for admission, although our students have an average of five years of work experience. Of course, having work experience could help you leverage the extensive opportunities at MIT Sloan. Students who already have a framework of experience and who understand workplace issues, generally get more out of the program and can often contribute more to classroom discussions and team projects. Use your own judgment in choosing the best time for you to pursue an MBA.
Thank you, How does MIT see the need in work experience in the MFI program?
@Dan - I am not sure that I understand your question, could you please elaborate? For our Masters of Finance program, this is one of our specialized early career programs and is meant to help someone just out of college or with a couple years of work experience gain knowledge in finance to go into a finance focused role.
Is there any change regarding job offers and summer internships comparing to past years?
any Israeli scholarships?
(Sorry, trying to think how to fund my MBA)
Thank you, you answered me.
@Moti - MIT Sloan students accepted full-time and internship opportunities with 300 companies. In 2020, our top industries were Consulting (31.1%), Tech (27.6%), and Finance (18.5%). The average base salary was $144,140, the median base salary was $150,000, and the range of base salary was $50,000-$230,000. You can find out more by checking out the employment report for graduating MBAs here -
https://mitsloan.mit.edu/career-development-office/employment-reports
Hi stephanie - I have heard from fellow MBA grads, not to highlight - a vision of adding value at an organization with one's skills ; but rather to portray how one's skills can impact change in the world and how working with a company or starting one - can help achieve this. Imagine candidate A - highlights his vision of working with P&G - who are known to be best in integrity, work ethics .. ( elaborates on this vision in the essay), vs candidate B who portrays a more opended ended perspective of his impact (covering the direct fact - he/she wants to bag that role at P&G with a highlight of how his/her skills will impact the community) - would this be carefully evaluated in the interview ; or what perspective should one be when writing an essay ?
@Dani - that is a great and important question! All applicants are automatically considered for a number of merit based scholarships once they apply. There are a number of separate scholarships you may apply for as well, please follow this link to learn more:
https://mitsloan.mit.edu/mba/admissions/tuition-and-financial-aid/fellowships
. For women applicants who are members of the Forte Foundation, they will also be considered for a scholarship through Forte.
hello Stephanie , My BA GPA is a bit low (72 out of 100) I have many reasons why , but my questions is, is this too low? Or can I still apply ?
@Guest - ultimately that decision is up to you, as you want to portray yourself authentically. You should not create or stretch a story when that is not your passion or goal with your skillset. If you have used your skills to impact your organization only that is not viewed negatively. Be as authentic as possible in your essay, if you reach the interview stage, topics like this will be discussed further.
Do you require gmat? do you see army service as work experience?
Do you expect more applications this year comparing to the past 1-2 years?
@Nadav - your GPA is only one of many pieces of data that we look at when evaluating your application. At MIT Sloan, we do not assign percentages to various application components. Each piece of your application speaks to different attributes and each candidate will shine in different ways. Your professional experience and your test can help balance out a perceived weakness in GPA
Hi, I come from a finance background and want to shift to real estate. is MIT Sloan mainly for engineers who want to move into tech?
@Dan - Yes, we do require the GMAT or the GRE and do not have a preference for either. You may submit a test waiver if you are unable to take the exam.
@Moti - we are still processing the data from this last cycle of applications, so I do not have an answer for that.
@Ariel - that is a great question! It is a common misconception that Sloan is focused on engineers moving into tech! We accept folks from a variety of backgrounds and do not give preference to those with STEM backgrounds. The only consideration is that you will need to show you are quantitatively comfortable as some classes are a bit more quant focused than others. That being said, we have many students successfully complete the MBA program who did not have a STEM background.
It looks like we are coming close to the end of this session and have just about 5 minutes left. If there are any last-minute questions, please feel free to ask.
My colleagues will be joining the zoom session starting at 1pm as well.
Do you consider army service as work experience?
Hi Stephanie, is there a way to schedule a 1 on 1 chat with an admissions officer to get more information/feedback?
Chat closing now - MIT BIG THANKS!
@Dan - yes that can be considered
@Aman- actually there is a zoom session right after this with that opportunity!
Thanks all for joining the chat today!